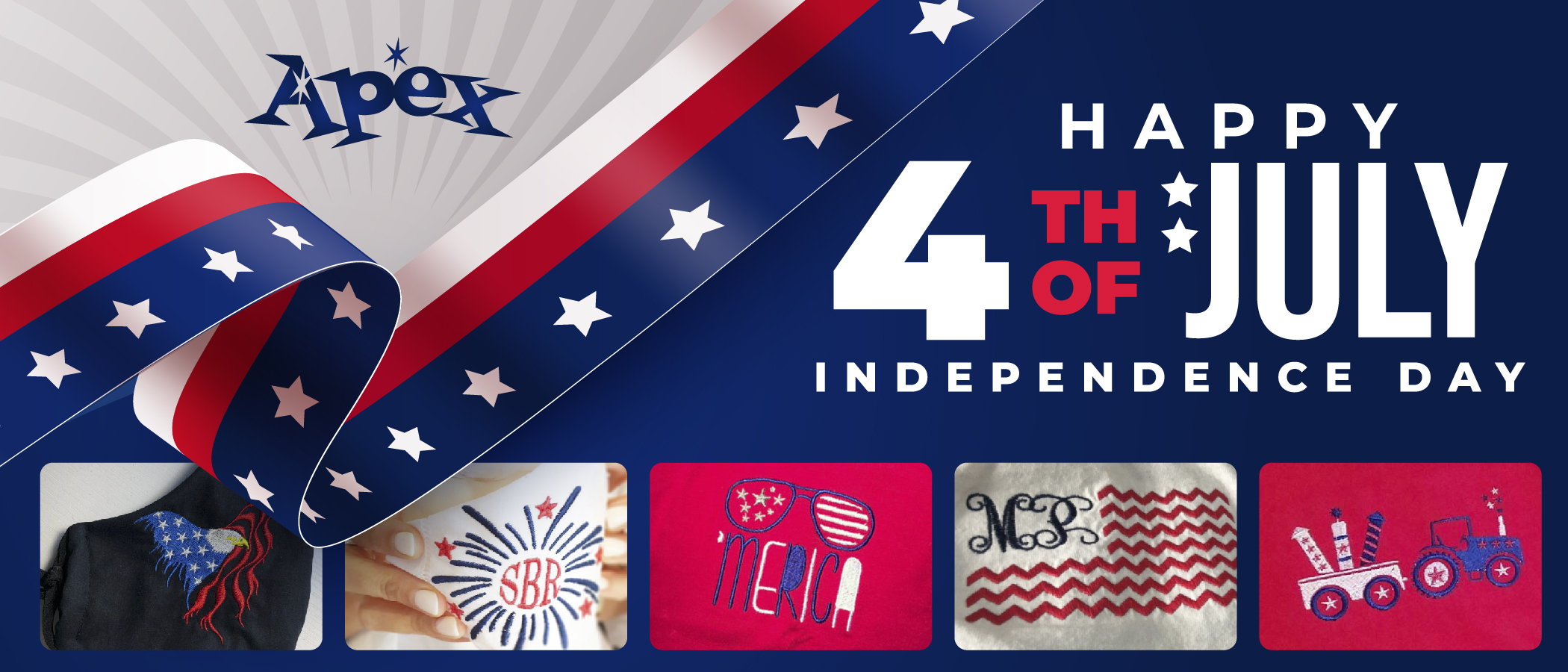 With the Fourth of July just around the corner, it's time to get into the patriotic spirit and add a touch of red, white, and blue to your embroidery projects. Whether you're a seasoned embroidery enthusiast or a beginner looking to try something new, this blog post will inspire you with some exciting ideas for creating stunning patriotic designs. Get ready to celebrate Independence Day in style with your needle, thread, and creativity!
What better way to do so than with embroidery? Embroidery allows you to add a personal touch to your decorations, accessories, and apparel. We'll explore some fantastic embroidery ideas and designs to help you infuse your 4th of July celebrations with creativity and a patriotic flair.
Monograms for your Family's Clothes
Monograms are a timeless and elegant way to personalize your belongings, and what better occasion to showcase your patriotic spirit than on the 4th of July? With embroidery, you can create stunning monograms infused with the colors and symbols of Independence Day.
Incorporate the vibrant colors and explosive beauty of fireworks into your monogram design. Experiment with different stitch techniques to create bursts of color around the initials, resembling fireworks in full bloom. Use red, white, and blue threads to symbolize the patriotic spirit and the dazzling spectacle of the 4th of July fireworks displays.
Festive Napkins and Towels
As you prepare for your 4th of July celebrations, don't overlook the opportunity to add a touch of embroidered elegance to your table settings and bathroom décor. Napkins and towels provide a perfect canvas for embroidery, allowing you to infuse your Independence Day festivities with style and personalization.
Personalize your napkins by embroidering monograms with a 4th of July twist. Select a monogram style of your choice and incorporate stars, stripes, or flag motifs within the letters. Use contrasting thread colors to make the monogram pop against the fabric. These monogrammed napkins will elevate your table settings with a touch of elegance and individuality.
Patriotic designs for your children
This is a special occasion to instill a sense of patriotism and celebrate the values of freedom and independence with your kids. Embroidery offers a wonderful opportunity to engage children in a creative and educational activity while fostering their love for their country. These are some delightful and age-appropriate patriotic embroidery designs that will inspire kids to embrace the spirit of Independence Day and express their creativity.
You can sew a majestic design by embroidering your children's name with an American flag. Use red, white and blue threads to represent the patriotic colors, you can also frame the flag with the stripes and stars, inside sunglasses or another shape that represents this holiday, also the use of fireworks can give it a fun touch to your garments.
USA Hats and Mask
Celebrate the 4th of July with a touch of regal patriotism by incorporating an eagle embroidery design onto your face mask and Hats. The majestic eagle symbolizes strength, freedom, and the spirit of the United States. We offer you a captivating eagle embroidery design that you can add to your mask.
Embroider patriotic phrases or words onto your hat to make a bold statement. Stitch phrases like "Land of the Free," "USA," or "Proud American" using contrasting thread colors against the hat's fabric. These embroidered phrases will showcase your love for the country and add a touch of personalization.
TIPS TO HELP YOU CREATE STUNNING PATRIOTIC EMBROIDERY DESIGNS:
Choose the Right Colors: For patriotic designs, the classic color combination of red, white, and blue is a must. Consider using threads in varying shades of red, white, and blue to add depth and dimension to your embroidery. Metallic threads can also be used to add a touch of sparkle.
Consider Fabric and Project: Choose the right fabric for your embroidery project, keeping in mind the intended use. For example, if you're embroidering on clothing, select a fabric that can withstand frequent washing. If you're working on a decorative piece, consider using sturdier fabrics like canvas or linen. Adapting your design to fit the size and shape of your project is also crucial for a balanced and visually appealing result.
Play with Different Stitch Techniques: Experiment with various embroidery stitches to add texture and interest to your design. Popular stitches for patriotic embroidery include satin stitch, backstitch, French knots, seed stitch, and chain stitch. Different stitch techniques can be used to create shading, fill areas, or add details.
Practice and Have Fun: Embroidery is a skill that improves with practice, so don't be discouraged if your initial attempts aren't perfect. Embrace the learning process, experiment with different techniques, and enjoy the journey. Embroidery should be a relaxing and enjoyable activity that allows you to express your creativity.
Embrace your creativity, select your favorite embroidery designs, and enjoy the process of bringing your 4th of July clothing decorations to life. Show off your American pride with style and celebrate the spirit of independence! If you have already worked with Apex, please send us your project pictures; we would be happy to see what you can do!
Let your patriotic spirit shine through your stitches as you create memorable and personalized pieces that reflect the pride and joy of this special holiday. Happy stitching and a happy 4th of July!